In late 1937 Mary Lindsay, the daughter of a beef farmer of Greenstreet Northern Saskatchewan, Canada, spotted a uniquely colored speckled red roan heifer in her father's herd. The unique color pattern impressed her as she had always been interested in unusual colors in livestock especially cattle, she bought that heifer from her dad.

She found regardless of the breed of sire she bred the cow to it always produced calves with that color pattern. It is believed that the heifer was a descendent of a Teeswater Shorthorn which carried the White Park gene as well. These two ancient breeds dating back to the 16th century were hard, strong and milky. Mary continued to breed speckled cattle and found that the speckled pattern was a dominant trait in her newer version of those ancient breeds. They were quite in nature and kept the hardiness of their ancestors. The cattle grew quickly, were hardy and quiet natured.

In the late 1950's Beef cattle breeders, Bill and Eileen Lamont, of Maidstone, SK who at that time were breeding Angus cattle and Appaloosa horses came across Mary Lindsay's speckled cattle and simply thought speckled cattle would go well with their speckled horses and black cows, little did they know what they had stumbled upon.

In 1959, Eileen and Bill, bought their first speckled heifer from Mary and the 'wheels had been set in motion.' It was to lead to the development of what is now known as the Speckle Park cattle breed, one of the most dynamic and cattleman friendly of all the British breeds to ever be bred. The Lamonts crossed their "speckled" cows with superior registered Black Angus bulls in late 50's and early 60's. The resulting offspring came in a variety of color patterns, some white with black points, some leopard colored (spotted on their sides ) and some black sided with speckled hips, white top and underline and roan faces.

As the years went on the Lamont's diligent work in breeding high quality carcass cattle, light birth weights with speckles continued. After much deliberation they decided to name their cattle SPECKLE PARK cattle. Other beef cattle breeders saw them come through the cattle markets and bringing a premium price. Their interest grew in these hardy, heavy milking and distinctly marked cattle to the stage they started purchasing bulls and females from the Lamont's to try them in their herds. Within a few short years a dedicated group of breeders were now breeding Speckle Park cattle mainly from the Nielburg area of northern Saskatchewan. These breeders were hooked on these cattle.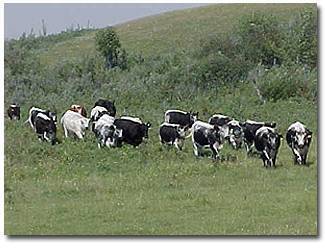 The Lamonts could have quit these cattle with the Appaloosa look many times, what with all the trials and tribulations of keeping the breed afloat on their own but they were determined to make their Speckle Park cattle a pure breed. In 1985 with the help and support of nine of those other Saskatchewan cattlemen the Canadian Speckle Park Association was formed. Their aim from there on was to stabilize the breed and have them recognized as a pure breed.
On June 4, 1993, Agriculture Canada approved the incorporation of the Canadian Speckled Park Association and were declared an EVOLVING breed of cattle. On Feb. 14, 1995, the Association's first set of by-laws was granted ministerial approval.
Unlike most other countries, Canada's Minister of Agricultural and through the Animal Pedigree Act insist on anyone trying to start a new breed have to go through stringent protocol procedures to have the breed declared a "DISTINCT BREED". This comes after the period of time the breed is in the EVOLVING breed status, all of which is overseen by Government Authorities. Stabilizing Breed characteristics and keeping pedigrees are two major protocols that have to be upheld.
History was made on July 6th 2006 when the Minister for Agriculture announced the SPECKLE PARK BREED a DISTINCT PURE BEED the first and only breed to be developed in Saskatchewan CANADA.
Today there are over 70 Purebred members and some 3,000 registered cows on the register in Canada alone. In 2007 and 2008 over 700 embryos and 1500 straws of Speckle Park genetics have been exported to Australia, New Zealand, Ireland and Denmark with the first caves due in May 2008.
A group of Australians have in 2007 formed the Australian Speckle Park Association and will handle registrations for both Australia and New Zealand. They will also be the first to have a Performance Data Recording system in place for Speckle Parks, with University of New England, Armidale, Australia and the Agricultural Business Research Institute of Australia, which will bring a new and exciting dimension to the breed.